Prada Waist Down
Projections for the opening of the PRADA Waistdown exhibition in Los Angeles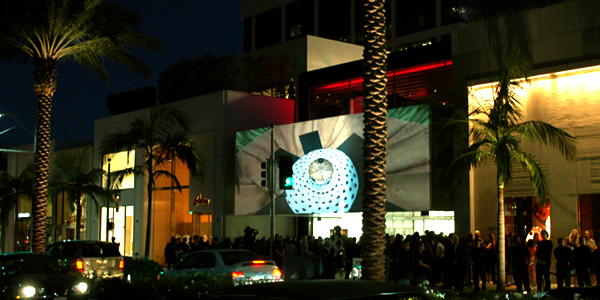 Prada Waist Down: Projections
By lending character and algorithmic movement to the skirts, a digital presence was generated to accompany the mechanical and graphical instruments created by AMO.
In order to engage with the inherent qualities/properties of 'skirtness', each program deals with the skirt collection in a different manner. As the qualities of fluidity, materiality, shape, patterns and movements were explored, the skirts unique power to inspire its entourage was brought forward through the digital realm.
Projected onto the facade of the LA Epicenter store, the slow and majestic movements of the skirts in an oversized format served as an introduction to the ludic environment of the waistdown landscape inside the store.
The facade was lit from across the street by 3 projectors, splitting the ultra-widescreen (1920x611px) DVI signal seamlessly across the facade. Thanks to Olaaf for the setup.
For us, this was our first commercial release made in Unity, and completes the porting of the animation code from Director.Big thanks to Carl Emil and Aras for their work on this.
For the 'peepshow' in the elevator inside the store, we used Nodebox to generate some huge tile-able images.
Text by Charles Perronin