ANAN Fishpond
Realtime animation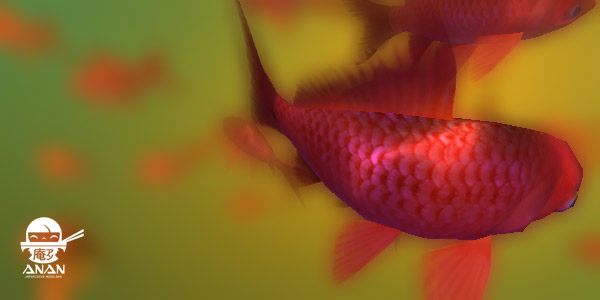 Artificial creatures
The newly opened "ANAN Japanische NoodleBar" in Autostadt, Germany, Hosoya Schaefer Architects features a digital fishtank at its entrance - welcoming the visitor to the hybrid interior of the resturant: Vivid color prints on transparent acrylic plates - in a white, clean and minimalistically furnished, space. Visually rooted in the pop aesthetics of contemporary Japan, the piece plays with the nostalgic notion of the goldfish rather than strictly trying to simulate the real thing. Created in the game engine Unity the project features a shader-based depth of field effect and behaviorally controlled flocking. The dynamic motion of the fish is achieved by means of procedural animation.
Displayed on three screens, controlled by one application each - relaying position data through a socketserver, so the fish appear to be swimming seamlessly between the screens.
The realtime animated fish gives way to playlisted content blocks produced by Büro Destruct and Japanese design team Power Graphixx resulting in a interesting mix of 3D, Motion Graphics and Still Images.