Mobiglobe
Interactive data-visualizations, research on mobility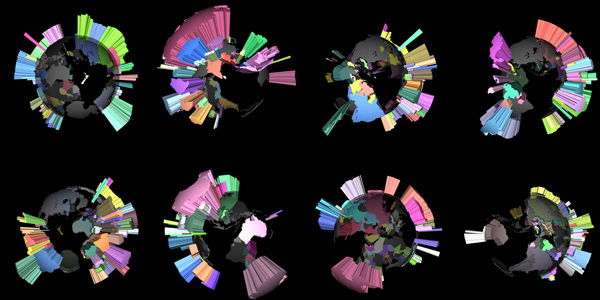 The Mobiglobe project is a public-facing research platform hosted by, and developed for, the Volkswagen communication platform Autostadt in Wolfsburg, Germany, on the theme of Mobility.
Ranging in scope from Economy, over Space and Resources to Sustainability and Culture, the research maps historical development and evolution, identifies limitations, trajectories and frontiers, and shows practical solutions to a future sustainable mobility through interviews with visionary thinkers.
Powered entirely by data, the 48 topics are presented to the user as interactive 3D visualisations, inviting to deep exploration (full source listing is provided), but also catering to more playful investigations.
An ordering principle of Scale is used throughout. A topic like "Oil" can thereby be explored on
the Car-scale (showing how Oil is a key requirement of the Car, not only in the engine but also plastics etc.),
the Region-scale (where a Map of Europe shows the extent of the Oil-pipelines fuelling the region from far-away sources),
the Global-scale (where the mismatch between oil-consumption and oil-resources becomes clear) and finally the
Time-scale (where the "oil peak" concept is discussed.)
In its first iteration, the project was designed as 4 interactive stations, providing in-depth knowledge to a 6-head film depicting "experienced mobility" from selected cities. These stations was designed toward a heads-up / control room type interaction model, where three touchscreens formed a navigation panel which controlled the content on a 60" wall-mounted display.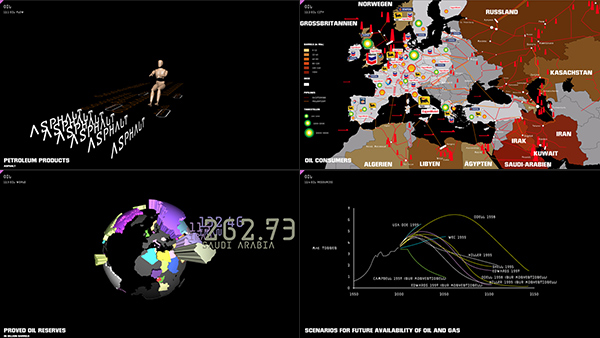 Process
Based on research conducted by Hosoya Schaefer Architects and graphical language defined by Büro Destruct, we where asked to define the interaction concepts, develop a runtime platform and realise the project - from conceptual sketches to actual deployment to support service throughout the 3 years lifetime of the installation.
We were working closely with the research team from the very beginning, devising internal production work-flows spanning from modelling techniques and data formatting to techniques for production of screen based graphics like pixel precision and alpha channeling.
We developed numerous tools for data-parsing, automatic build routines, graphics generation and packaging.
We worked closely with the team behind the Unity gameEngine based in copenhagen from the very start of the project. (Joachim coded one of the key shaders on a airplane toilet on our way back from shanghai, and the collaboration resulted in new features being added to Unity.)
Extension: MobiSpace
During 2012 three additional user-experience formats where added to the installation:
a gesture-controlled interactive wall, dubbed MobiSpace,
an iPad-delivered "lean back" format allowing the Autostadt visitor to engage with the content from the comfort of a ball-chair with embedded speakers,
and a single-screen version enabling the platform to be deployed in not-so-specialized setups.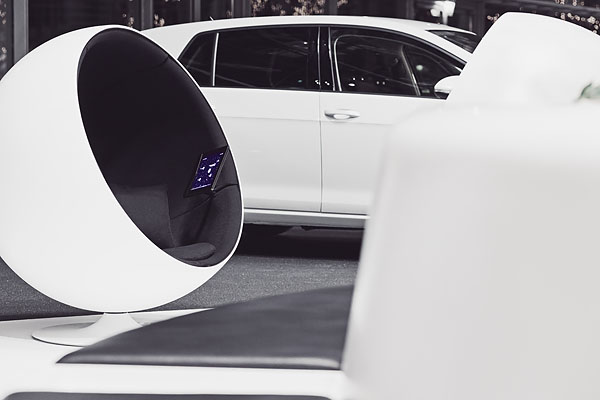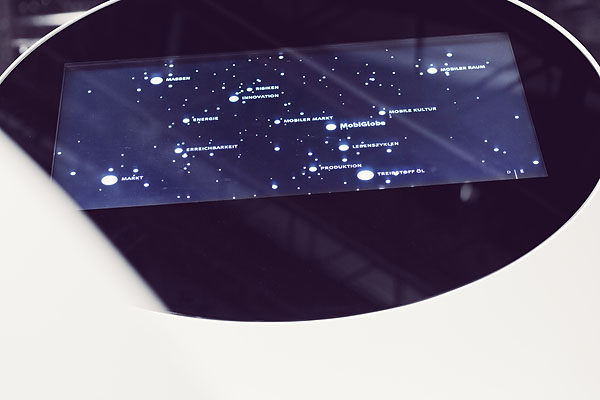 Project Timeline 2006 - 2017
2005: Project kickoff. Core-team: Markus Shaefer, Jørgen Skogmo
2005: Jørgen spends a week in Shanghai with Joachim Ante and David Helgasson. Unity is selected for the project platform.
2006: Production start: Isabelle Bentz and Patrik Svensson joins the team.
2006: Installation opens, version 1.0
2007: Project featured on visualcomplexity.com
2007: Apple.com releases two-page feature on shiftcontrol, with emphasis on the use of the Unity game-engine for the Mobiglobe project apple.com/pro (now offline) (Check the wayback-machine!!)
2007: The multi-format expansion strategy of Mobiglobe agreed. 'Mobiglobe' becomes brand identifier, the interactive stations renamed to 'Mobiglobe Facts'.
2008: Mobiglobe 2.0 released, with a 6-screen film installation featuring interviews with mobility and sustainability 'visionaries' backed by 4 new stations running the Mobiglobe Visions (1.0) software. Mobiglobe 2.0 released with an extensive content update.
2011: Content-update released (Produced by CIID, Team: Elena Gianni, Mikhail Akopyan)
2012: Unity Studios joins the team as (Software) Developers.
2013: Mobiglobe 3.0 released, with a completely rewritten codebase, opening of the MobiSpace, MobiSphere and Mobi-iPad formats. (Team: Lucas Krupp, Christoph Frei, Asger Hoedt, Anders Ejlertsen, Mads Bøgeskov, Marija Blagojevic, Esther Reinhardt)
2013: Mobiglobe wins the Red-Dot Communication Grand Prix award.
2015: Core technology update; move to WebGL 2017: Reformat; final update.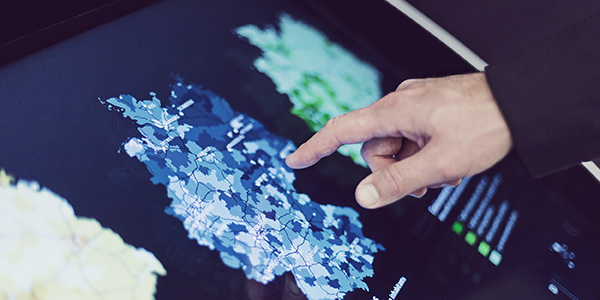 Thanks to Uthelm Bechtel for his on-site support and systems integration, InformationsTeknik for assistance during hardware research and Art+Com for operations support.